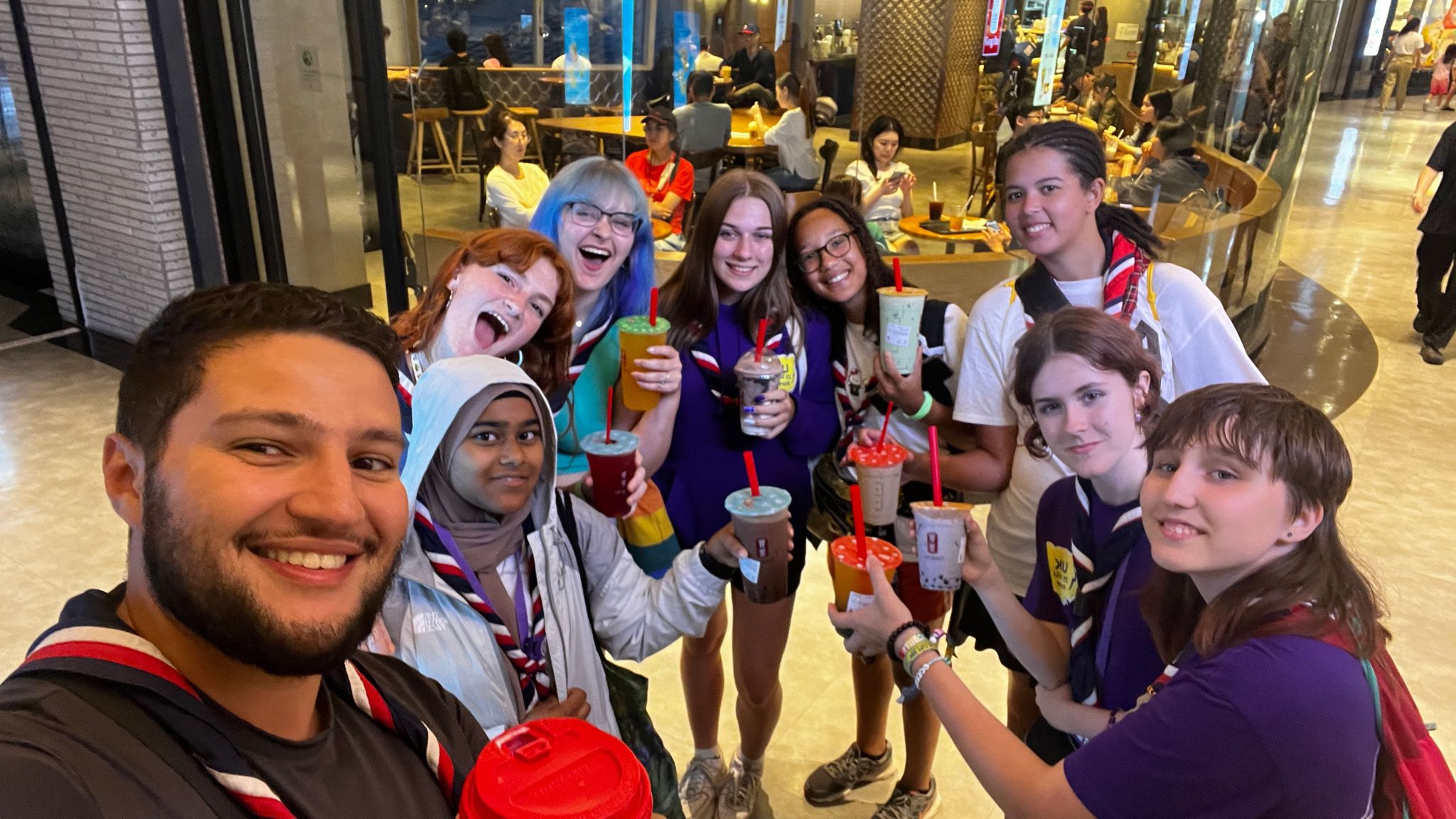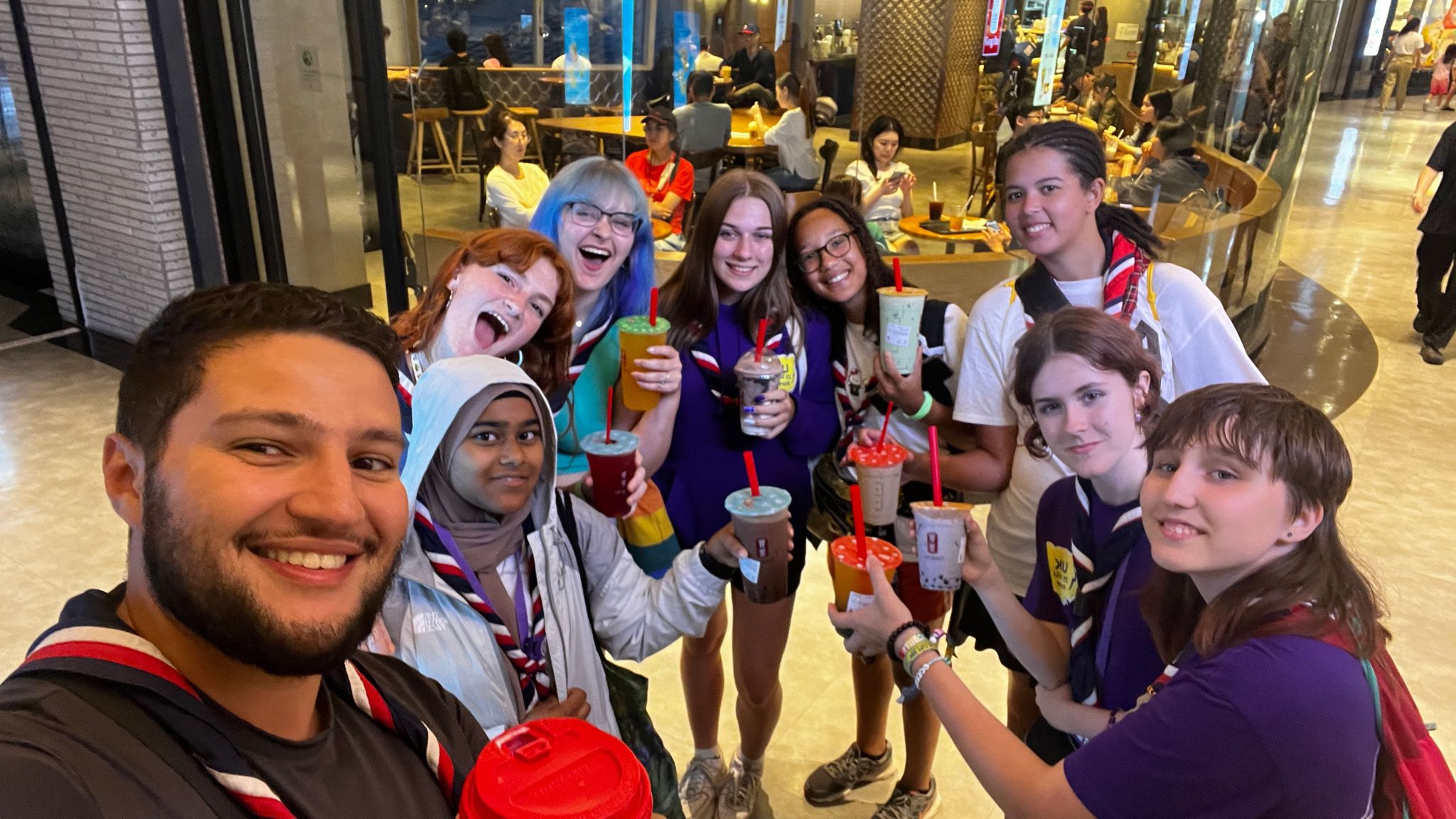 01.10.2023
Eloise's Jamboree Journey
I left from Heathrow airport on Saturday morning to fly to South Korea. We flew with Singapore Airlines to Singapore. It was a thirteen-hour flight where we stopped over for seven hours. In the airport we went to see the butterfly garden and Koi Pond. Its known as one of the best airports to visit – I brought my swimming costume, but the pool was closed. We boarded another plane to take us to South Korea which was six hours.
We had a coach waiting for us which took us to the hotel. We stayed in Seoul for three days before going to the camp site as there was a delay due to the site flooding. While in Seoul we went to Gyeongbokgung Palace and looked around the area in which we were staying. We ate out at different restaurants, went to the national museum of Korea, and visited a library inside a train station. We went looking for Poo Poo Land, which is a museum which takes you through the digestive system, but after we found out it was permanently closed, we chose to look around and bumped into some Australian scouts who we talked to for ages.
We took our coach to the camp site from Seoul which took 4 hours. When we arrived we began to set the site up with our tents.  Me and my tent mate made dinner which was Tteok-bokki for our patrol. After dinner we set out for the opening ceremony which was attended by all the scouts and guides that was camping at the site. United Kingdom had sent over 4000 people being the biggest contingent that attended to Jamboree. In our unit there was 36 children and 4 leaders. Each leader then had 9 children in each patrol. We were unit 28 and were called the 'Attenbros'. We even sent a letter to David Attenborough for permission to use his name. My patrol unit was named Holanj-I which means Tiger in Korean. At the opening ceremony there was a flag ceremony and then there were speeches by the President of Korea, the Korean contingent leader and Bear Grylls. There were also performances and a drone show.
At the campsite there were many activities put on, however, many of these activities were cancelled due to the heat. Temperatures manged to reach 39°! On the first day me and a few others tried to do activities that were stationed on the other side of the campsite. It took a long time and many water breaks but when we got there the activities were closed for lunch. We only got to do 3D penning. We only stayed at the campsite for three nights, as the contingent pulled the UK scouts out of the jamboree. This was because the site was deemed unsafe for us. There was not enough shade for us, and the shuttle buses were barely running with hour long queues. The toilets were almost unsanitary, and rubbish was overflowing. Our lunches were also not sufficient. We were lucky to not have anyone fall ill but other groups were unlucky. Some people got heat stroke and infections from the mosquito bites. The scout leaders went to a meeting and came back saying that we were being removed the next morning and we are going to stay the rest of the journey in Seoul.
When we got the hotel in Seoul, we had people from the press trying to get pictures of us and the UK contingent clapping for us as we arrived at the hotel. We were put into a hall where we were fed lots of pastries, I had three croissants, two muffins, four cinnamon rolls and four pain au chocolate. We had to wait to be allocated our rooms. Everyone from our Unit was lucky to get room. Some people from the UK had not been able to get a room and slept in a hall in their hotel. We were able to go to the shopping mall which was next to our hotel.
We were lucky to find a laundromat across the road to wash our clothes. The rest of the group went to see a football match whilst five of us stayed behind as we were not interested in football. We went to an international school where they allowed us to use their swimming pool and allowed to explore the site. There was a busking event in the evening where the scouts were allowed to perform. We went to Bukchon Hanok Village which we explored and did some souvenir shopping, we also went to see a taekwondo musical in the Olympic Park. There was also a disco night which some of the group went to. The next day, because of the typhoon we went to a culture day for the scouts to meet other units, do swaps, activities and try some Korean food.
The next day we had the closing ceremony. We spent the entire day at the world cup stadium where the ceremony was held. We got given gift bags which either had teddies, portable chargers, mugs or toothbrush sterilisers along with photo cards and light wands. The closing ceremony included a summary of the event, renewal of the promise and the passing on to the next country which was Poland. We got provided with food and a K-POP concert especially for us. There was also a boy who collected all the cheese sticks and created a cheese stick tree. Then as it was late, we went straight back to our hotel after.
Luckily, as we were staying in the hotel we would have stayed in after the Jamboree, we just moved to our allocated rooms. As we were now back on schedule, we were doing activities we had originally planned. We took the cable car up to Seoul tower, it was a little cloudy, but still a pretty cool view. We then ate out and then went to The War Memorial Museum followed by the ALIVE museum and dynamic maze. We then went shopping and ended up getting a free tour of the Kimchi Museum. We then went to Lotte World which is similar to Disney land and went on the rides where we had Fastrack for some of the rides. We spent the full day there and when we returned a very nice man gave us two bags of Strawberry Milk. Many groups were getting free food or treats thanks to very friendly Koreans who felt bad about the Jamboree. The next day we had an early start and we got to go to the DMZ (Demilitarized zone). As it was also a national holiday the place was open just for the units who were visiting on that day. It was very peaceful there and had a good guide. There was one tourist shop and we got fed. We then went to the peace park where we tied ribbons hoping for unification of North and South Korea. In the afternoon we visited Gangnam and took a photo in front of the Gangnam style statue, we also went to a shopping mall in the area.  On our last day we did some last souvenir shopping and visited a Meerkat café where there were foxes, raccoons, wallabies, dogs, cats and of course meerkats. We then had Korean BBQ and then watched the light/ water show at the Rainbow bridge.
Despite the several mishaps and missteps during the trip (which were beyond anyone's control!) I have greatly enjoyed my visit to South Korea, the people and the city was so lovely. I will definitely miss the public transport and how spacious and clean it was. I had an amazing time I just wish that we got to meet more scouts and from other countries. I did manage to meet a few people at the campsite and in the city along with doing some swaps. I would like to thank those that helped me to be able to go on this journey, a shout out to my mum's family, my granddad who helped started the funds, my church family, everyone who bought my cakes that I made for the fair and after church and especially to my leaders Wolf, Chil and Chef who have helped me though my scouting journey.
Eloise